Redwood Reserve CBD Hemp Smokes
$3.00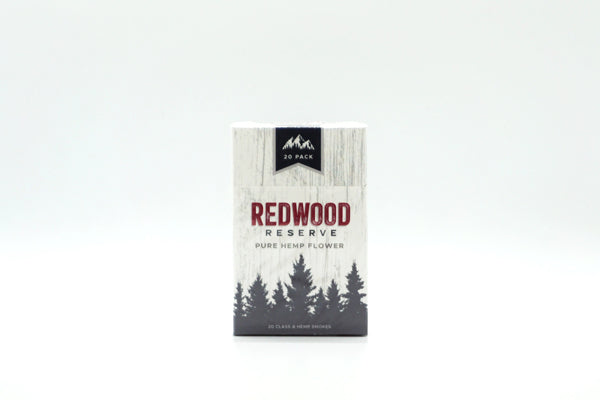 Redwood Reserves Full Flower CBD Smokes are rolled with only organically grown CBD hemp flower. Their filtered hemp cigarettes look just like traditional cigarettes, but contain only 100% hemp flower, with 100mg of CBD per smoke — no nicotine, filler, or harmful additives. When you want the convenience of a full-flower hemp cigarette, without the compromise, reach for the Redwood Reserves CBD Smokes.
Redwood Reserves' Hemp Cigarettes are made with:
0.8 grams of all-natural CBD hemp flower, per cigarette

A soothing blend of our three hemp flower strains

A broad range of beneficial terpenes to help you relax
Hemp Flower containing high levels of CBD

100% hemp flower – sun grown & slow cured

NO tobacco

NO biomass

NO additives
Redwood Reserves is committed to bringing you a true craft CBD experience. Their certified 100% organic flower is grown with only sun and water, meaning no pesticides, sprays, or any synthetic chemicals make it onto their products.
Although their full spectrum CBD flower contains very little amounts of THC, Redwood Reserves makes no claims that any individual will be able to pass a drug test after using this product.