Traumica Maxx Cream
$24.00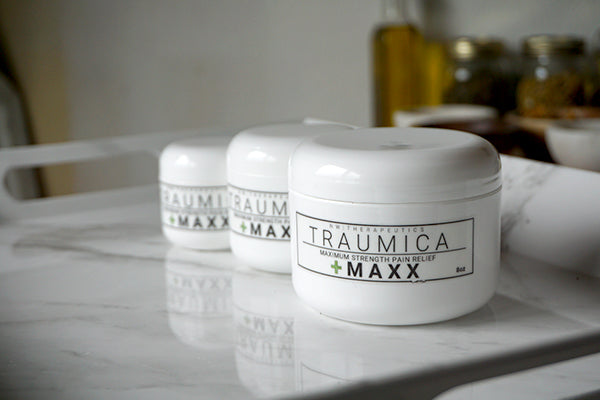 Traumica Maxx Maximum Strength Formula, is a hemp-derived CBD cream, and our most powerful solution for extreme pain relief. We combine the incredible analgesic benefits of cannabis sativa hemp oil with anti-inflammatories: organic arnica flower, ground ginger, and our thirteen-part essential oil blend, for a pain-relief cream that truly works. This deep penetrating CBD cream, works quickly and effectively for rheumatoid arthritis, nerve pain, osteoarthritis, fibromyalgia, sciatica, restless leg syndrome, neuropathy, carpal tunnel, stiff joints, sore muscles, sports injuries, inflammation, bruise prevention, and many more everyday aches and pains.
To use: Apply topically and locally, to the injury site, and allow fifteen to twenty minutes to fully absorb. For the best results, use consistently for the first week.
Ingredients: Olive oil, organic arnica flowers, organic ginger, cannabis sativa hemp flower (CBD 18%), shea butter, purified water, beeswax, sodium borate, and our proprietary blend of essential oils.
*These statements have not been evaluated by the Food and Drug Administration. These products are not intended to diagnose, treat, cure or prevent any disease.